ABOUT LIMOR
Limor is a technology company based in the Republic of Ireland. It was founded by Irishman Shane Monahan.
The story of LIMOR began in December 2014 While Shane was having a conversation with his father explaining what a podcast was and how it might help him with his voluntary work.
In an effort to spread the word about the work being done by his voluntary group Shane's father Peter would send his hand written letters to the local newspapers. Unfortunately Peter was becoming increasingly disheartened as his letters were very rarely if ever being published.
At this point Shane an avid podcast listener and advocate suggested to his father that he should make his own podcast and start sharing it on social media.
Although initially very keen on the idea his father immediately lost interest when the details of producing a traditional podcast was explained to him. It was too complicated, too expensive and far too time consuming.
At the time other than traditional methods there was no simple technological solution to record, produce and share this increasingly popular medium.
There was a real barrier to entry for traditional podcast creation and Shane was faced with the question; How do I make the process of recording and sharing a traditional podcast so easy even my dad can do it? The answer was Limor.
The name LIMOR is an acronym formed as an abbreviation of the words 'less is more'. This is the company name and the principal design philosophy of the app since its foundation.
The LIMOR app enables the production, editing and distribution of a traditional podcast, short form social audio casts and audio comments without the need for any audio recording equipment (such as microphones) or facilities(a studio or dedicated space) which are necessary using existing technology and practises.
Users can post a social audio cast on their Limor profile which in turn is shared on the main feed.
One of Limor's stand out features which truly ties into the social audio mantra is the voice commenting function. This feature allows Limor users to spark audio conversations underneath original cast content. These voice comments can be supplemented by traditional text comments.
A user has the ability to interact with a content creator or podcaster by speaking to them directly via a communal thread. Traditional text commenting is available alongside the audio comments for those who prefer to write.
It is anticipated that voice comments will in time lead to mass interaction due to their convenience and the efficiency they offer over traditional texting.
Presently there is no other social media application in the world which has this functionality.
Limor is pioneering this new era of social interaction referred to as 'social audio' and is embracing all aspects of voice technology currently available to offer an exceptional user experience for all its conspirators.
In April 2017 Limor launched its Phase 1 version of the app on IOS (Apple) and the Android version of the app went live in (August 2018) making the Limor conspiracy available on all smart phone devices.
The Limor app is available on the Apple AppStore and Google Play Store and is free to download.
Follow the links below to download the app now.
Limor founder - Shane Monahan
Shane Monahan is a qualified product designer and technology entrepreneur from the Republic of Ireland and the founder and CEO of Limor.
Shane's former career, prior to Limor, was in professional rugby, playing for top European clubs , Leinster, Connacht, Gloucester and Munster.
Shanes passion and belief in the Limor project led him to hang up his rugby boots and make his idea for Limor a reality. With this in mind Shane Understood that ideas alone will remain stationary without execution and set about assembling a group of talented and experienced people to help drive his highly ambitious and innovative project forward.
Presently Shane and his team are working around the clock to redefine and evolve the world of social media with the LIMOR social audio app.
LIMOR CONSPIRACY EXPLAINED
The name LIMOR is an acronymn formed as an abbreviation of the words 'less is more', which is the company name of LIMOR app.
"LIMOR" is a play on words on the word "Lemur' that very well know and loved primate from Madagascar.
The Lemur in question is the very well known and loved ring tailed Lemur.
And what about the Limor conspiracy? Well Lemurs live in groups known as a conspiracy, and it was this description which inspired the company tagline "join the conspiracy".
The word 'conspiracy' has many negative connotations and is used commonly to describe the apparent activities of secret societies, and secret world governments in their pursuit of world domination.
That is certainly not the case at Limor.
The word conspiracy and the tagline 'join the conspiracy' is a playful tribute to the ring tailed Lemur and a friendly call to action by LIMOR founder Shane Monahan.
In the video below Limor founder Shane Monahan, explains the name and where it came from.
Company FAQ'S
still have questions?
visit our FAQ page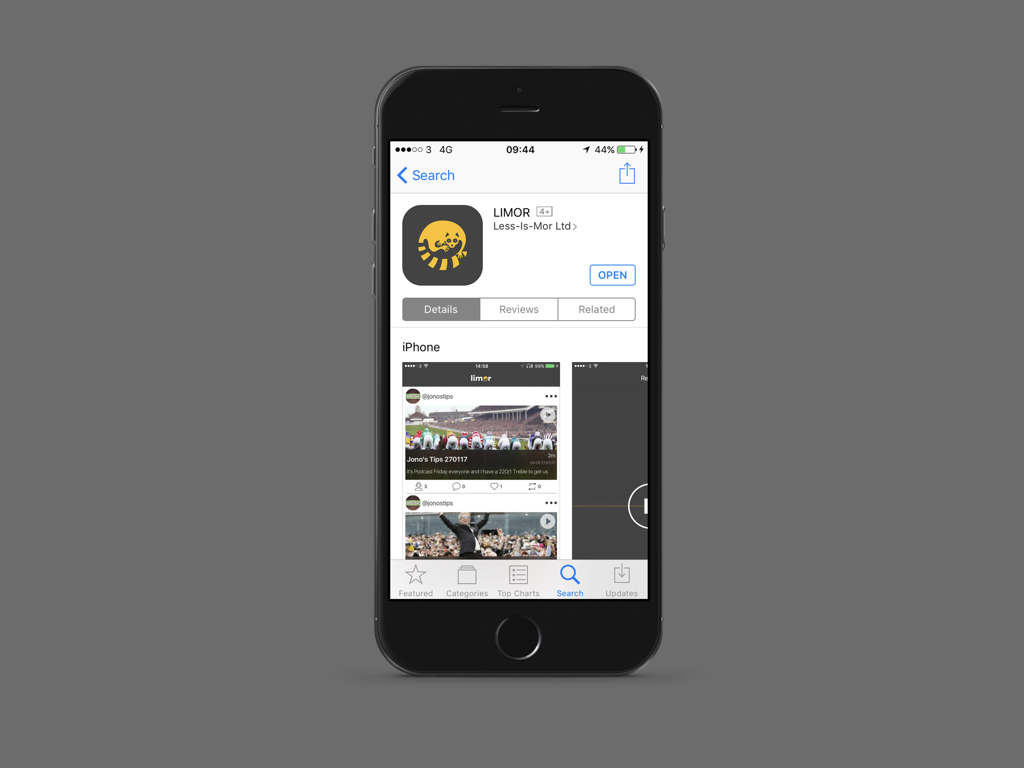 Lemur conservation network